How to Become a Speech-Language Pathologist: Step-by-Step Instructions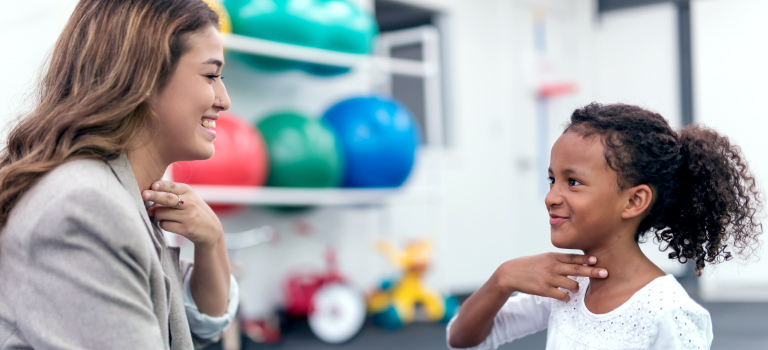 What is a speech-language pathologist? Speech-language pathologists (SLPs) are trained specialists in identifying and treating impairments related to speech, language, cognition, social skills, swallowing, and hearing. Specific communication impairments may include articulation disorders, language disorders and delays, fluency impairments, literacy challenges, cognitive-communicative impairment, differences in social communication, and voice problems.
Speech-language pathologists work with clients across the lifespan, from infants to school-age children to older adults, designing and implementing plans of care to improve, maintain, or restore skills in talking, listening, problem-solving, reading, writing, and swallowing.
SLPs may also provide clients with tips and information to prevent communication impairments. Communication impairments can have a significant effect on the way people live their lives, from social interactions to vocational endeavors. SLPs work across a variety of settings — home visits, schools, businesses, private practices, medical settings, and rehabilitation centers. The work of an SLP is key to improving overall quality of life, making SLPs valuable contributors to both educational and medical settings.
Employment of speech-language pathologists is expected to grow 27 percent from 2018 to 2028, according to the U.S. Bureau of Labor Statistics (BLS). That's more than triple the average growth rate for all occupations over the same time period (5 percent, as per the BLS).
Earning the right degree and gaining hands-on experience in the field are important if you are interested in a career in speech-language pathology. The time it takes to become a practicing professional depends on a number of factors; however, on average, it takes at least two years to complete a full-time Master of Sciences in Communication Disorders (M.S.).
If you're a student considering a career in speech-language pathology or even a working professional transitioning from an unrelated career field, below is a general list of steps you can take to enter the SLP profession.
Step 1: Complete a Master of Sciences in Communication Disorders (M.S.)
SLPs can enter the field without an undergraduate degree that focuses on communication sciences and disorders. If you have a bachelor's degree in another discipline, the Speech@Emerson program and post-baccalaureate programs offer foundational courses that may prepare you to earn your Master of Sciences in Communication Disorders (M.S.).
A master's degree program that is earned at a program accredited by the Council on Academic Accreditation in Audiology and Speech-Language Pathology (CAA) is the minimum level of education required for those interested in becoming a certified SLP. In addition to certification, speech-language pathologists have to be licensed through their state licensing board. Some licensing boards may have additional requirements for licensing.
Requirements for applying to a Master of Sciences in Communication Disorders (M.S.) program vary from institution to institution. For the Speech@Emerson program at Emerson College, requirements include completing a bachelor's degree program, providing letters of recommendation, enclosing a resume and personal essay, and participating in an interview.
Once you are enrolled in the program, your coursework will include both academic and clinical learning experiences.
The Speech@Emerson curriculum prepares students to assess and treat people with any of the following conditions:
autism spectrum disorders
aphasia
language and literacy disabilities
fluency disorders
speech sound disorders
cognitive-communicative disorders
voice disorders
swallowing problems
motor speech disorders
deaf and hard of hearing
Step 2: Complete Supervised Clinical Experience As Part of an Accredited Graduate Program
The clinical practicum — a critical step to becoming a speech pathologist — is part of every high-quality Master of Sciences in Communication Disorders (M.S.) program. During your clinical practicum, you will see professionals at work and will have the opportunity to be supervised by them. The primary focus of clinical practicum is for students to gain hands-on experience working with individuals who have communication disorders across a variety of settings. The Speech@Emerson program enables you to complete clinical practicum requirements so that you can apply for certification.
The American Speech-Language-Hearing Association requires that all applicants for certification earn a total of 400 clinical clock hours, 25 of which are guided observation hours and 375 hours (minimum) are direct clinical clock hours. The 25 guided observation hours require students to be actively involved in debriefing the session with the professional performing the activity. These hours typically occur in the context of a class or structured learning experience and are completed prior to starting supervised clinical practicum activities.
In order to accrue at least 400 clinical clock hours, Speech@Emerson students are required to enroll in five semesters of Clinical Practicum (CD 611, 612, 613, 614, 615) while in the program. In the Speech@Emerson program, CD 611 is a virtual practicum experience that helps students practice clinical decision-making and clinical writing, as they earn clock hours by participating in simulated clinical activities. The other practicum courses, CD 612, CD 613, CD 614, CD 615, involve students working as graduate student clinicians in community-based placement sites.
Step 3: Pass the Praxis Examination in Speech-Language Pathology
Students in the Speech@Emerson program take the Praxis exam towards the end of their graduate program, immediately after completing Comprehensive Exams, and before their clinical fellowship. The exam assesses knowledge and skills obtained through academic coursework and supervised clinical experiences in the program.
While you can use Praxis' Speech-Language Pathology Study Companion (PDF, 1.6 MB) to familiarize yourself with the exam content before testing, your graduate coursework and field experience will be most applicable to the exam. To further aid in test preparation, you can also make use of study tools available on the internet and in books.
Refer to the Praxis Bulletin and Forms resource page if you have any questions about test day procedures, score reporting, or if you just want to find more information about the registration process.
Step 4: Complete Clinical Fellowship (CF)
Upon graduation from the Speech@Emerson master's program, you will be required to complete a clinical fellowship. This consists of nine months of full-time employment or 12 months of part-time employment during which you are employed by a school, private practice, early intervention team, or medical facility. Completing your clinical fellowship represents the final component of training prior to becoming fully certified by the American Speech-Language-Hearing Association (ASHA). During the months of fellowship, you will be supervised by a CF mentor. The CF mentor must be certified, must have completed their own CF at least nine months prior, and must have completed a minimum of two hours of continuing education in the area of supervision. The CF experience prepares graduates for independent practice in the field. It is the first job you will hold as a future certified speech-language pathologist.
To work as a Clinical Fellow, you may need to obtain a temporary license, also called a temporary or provisional license, from your state licensing board.
Finding a clinical fellowship means looking for a position that will hire someone who does not yet hold ASHA certification. You will need to conduct a job search to locate a CF position. Most graduate programs offer career development support to help you with your search.
Step 5: Obtain Certificate of Clinical Competence in Speech-Language Pathology (CCC-SLP)
Students may file an application to obtain the certificate of clinical competence immediately after graduating from an academic program. Students take the Praxis exam just prior to program completion. Typically, they then complete their clinical fellowship employment experience.
To obtain the certification, you must meet the eight standards summarized below. Select any one of the hyperlinked standards to learn more and view additional sub items.
Source: The American Speech-Language-Hearing Association
The Speech@Emerson program prepares students academically and clinically to apply for the CCC-SLP. Applications for the CCC-SLP can be found online.
Teaching Certificate and State Licensure
A state license and teacher education license are two separate steps that may be required to work as a certified SLP in certain states, depending on your employment setting. If you are planning to practice as an SLP in the school setting, you may be required to have a teaching certificate, depending on your location.
In addition to national certification by ASHA, SLPs in most states are required to be licensed. Requirements for state licensure for SLPs vary based on your location. Some states require proof of education and clinical fellowship, passing scores on the Praxis exam, and continuing education hours. To find out more about specific state licensure and teacher credentialing requirements, refer to the state requirements resource page on the American Speech-Language-Hearing Association website or contact your state's licensing board.
Citation for this content: Speech@Emerson, Emerson College's online Master of Sciences in Communication Disorders (M.S.)