What Does a Speech Pathologist Do?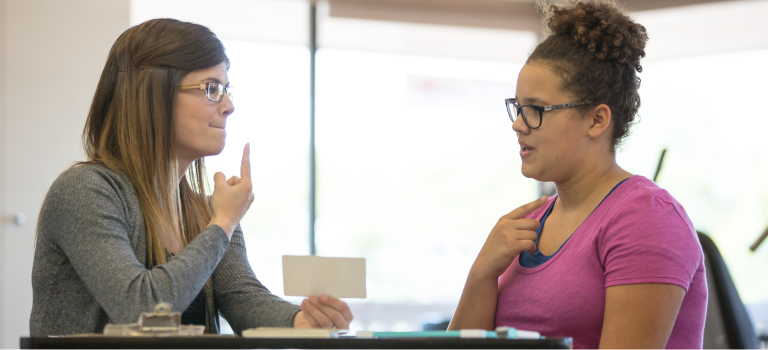 Speech-language pathologists (SLPs) provide care to people with speech, language, cognition or swallowing impairments, from infants to older adults and everyone in between. If you are interested in a health care career that offers an array of specialties, practice settings or clientele, speech-language pathology may be the field for you. This resource will outline what a career in speech-language pathology entails, highlight the differences between a speech-language pathologist and speech therapist, and describe the different settings where SLPs offer their services.
What Is a Speech-Language Pathologist?
A speech-language pathologist is responsible for assessing, diagnosing, treating and developing plans of care to help improve, maintain and restore certain skills and functions in their clients. Such functions include:
Articulation or phonological disorders, such as dysarthria or apraxia of speech.
Language processing challenges.
Language fluency, including stuttering.
Feeding and swallowing difficulties due to dysphagia.
Social communication pragmatics.
Licensing requirements to practice as an SLP vary by state, but most require supervised clinical experience and at least a Master of Sciences in Communication Disorders (M.S.). The American Speech-Language-Hearing Association (ASHA) offers certification once individuals have passed the Praxis Examination in Speech-Language Pathology.
So, why become an SLP? The path to becoming a speech-language pathologist requires hard work. But the career comes with the opportunity to improve an individual's overall quality of life, and that can be rewarding.
Working in a high-growth field is another reason some people might consider a career as an SLP. Speech-language pathologists held about 153,700 jobs in 2018, according to the Bureau of Labor Statistics (BLS). By 2028, the BLS projects that the number of speech-language pathology jobs will reach 195,600.
Speech Pathologist vs. Speech Therapist
What's the difference between a speech pathologist and a speech therapist? Actually, there isn't one. Speech-language pathology is the official profession of an individual who is commonly known as a speech therapist or a speech teacher. The terms are used interchangeably to refer to someone who evaluates clients' unique communication impairments or disorders and determines a specialized course of treatment to help them improve over time.
Job Description of a Speech Pathologist
The day-to-day duties of a speech-language pathologist may vary based on the work setting and area of specialization. However, some key responsibilities SLPs share are as follows:
Conduct screenings to assess a client's speech and swallowing challenges.
Evaluate and diagnose speech, language and communication disorders.
Develop an appropriate treatment plan.
Provide rehabilitation or communication strategies for those who are deaf or hard of hearing.
Train, communicate and educate family and caregivers of those with communication or swallowing disorders.
Offer augmentative and alternative communication systems for clients who experience challenges with severe social expression or language comprehension disorders, such as those on the autism spectrum.
Use an interdisciplinary approach to address a client's communication and swallowing needs.
Complete administrative tasks, including the recording of a client's progress during and after treatment and the maintenance of client records.
There are a variety of work settings that a speech-language pathologist can choose from. SLPs can work in nursing and residential care facilities, offices of audiologists and physical therapists or have offices of their own.
Some SLPs choose to specialize in treating and supporting clients of a specific age group, such as young children or older adults. Our Master of Sciences in Communication Disorders (M.S.) program includes applied courses, such as CD642-Autism: Social Communication Development and Disorder, which introduces students to the development of social communication skills in children. By the time students graduate and become licensed, they will be prepared to work with children with autism and help them to build communication and social skills outside of the typical classroom setting. The knowledge and skills acquired during applied courses may also enable students to support adults with autism who may be joining the workforce. In those cases, the SLP provides direction when it comes to writing cover letters and preparing for job interviews.
Our program also includes clinical placements. During in-person placements, our students have the opportunity to grow their practical understanding of the communication disorders that they study in the virtual classroom. They also gain exposure to clinical settings and can decide whether they'd like to work in such an environment once they become licensed.
Speech-Language Pathologists in Hospitals vs. in Schools
Hospitals and schools are two of the most common work settings for speech-language pathologists, according to ASHA. Both settings come with unique challenges and opportunities.
What Does an SLP Do in a Hospital?
Medical speech-language pathologists work in health care facilities such as hospitals. They belong to an interdisciplinary treatment team that designs and implements a client's acute or rehabilitation care plan. They may collaborate with physicians, psychologists, social workers, audiologists, or physical and occupational therapists to get the job done. The BLS indicates that hospital-based SLPs make up 14% of all practicing SLPs.
A hospital-based or medical SLP's main job functions may include the following:
Diagnosing and treating cognitive, language, communication and swallowing disorders.
Working with a range of clients who suffer from chronic diseases or have been affected by neurological events causing trauma to the brain, such as stroke, seizure, cancer or physical trauma.
Prescribing modified diet plans for clients experiencing difficulty swallowing and symptoms of dysphagia.
Conducting periodic screenings.
Providing guidance, support and education to clients and their primary caregivers.
Informing clinical staff about communication disorders to provide clients with a holistic health treatment plan.
Conducting research on treatment methods for communication and swallowing disorders.
What Does an SLP Do in a School?
Speech-language pathologists working in education settings constitute 38% of all SLPs, according to the BLS. Education settings include pre-kindergarten, K–12 public and private schools, and colleges and universities.
SLPs who work in early childhood education settings employ intervention strategies and support students throughout their learning cycles. It is also important for school-based SLPs to advise and work with educators and administrators. This ensures that students' communication challenges are addressed holistically, so as not to disrupt their learning.
A school-based SLP or speech teacher's key responsibilities may include the following:
Conducting diagnostic evaluations and assessing students' communication skills.
Working with school-age children or college students with a range of learning, physical and auditory disabilities or disorders that adversely affect their educational performance.
Identifying students who may be at risk for future communication and swallowing disorders or challenges.
Consulting with and informing teachers, administrators and families about the prevention of and treatment for communication disorders.
Performing classroom-based services as well as facilitating small-group and individual speech sessions.
Working collaboratively to develop a treatment plan tailored to an individual student's communication and swallowing challenges.
Developing and implementing Individualized Family Service Plans and Individualized Education Programs.
Documenting as required by federal, state and local agencies.
Supervising clinical practicums for students working toward their SLP certification.
Participating in schoolwide curriculum and literacy teams.
The first step to becoming an SLP and achieving your career goals is earning a Master of Sciences in Communication Disorders (M.S.). To learn more about the Speech@Emerson program, including its length, a look into our online campus and what to expect of immersion experiences, visit our Speech@Emerson program page, contact the admissions team by phone at 855-997-0407 or send an email to admissions@speech.emerson.edu.
Citation for this content: Speech@Emerson, Emerson College's online Master of Sciences in Communication Disorders (M.S.)